Find
The perfect service partners for your event
You want your event to be unique - just like your company, your workforce and your clients - and that's why the Nantes and Saint-Nazaire Convention Bureau is here to help with the organisation of all of your business events (seminars, conventions, congresses, gala evenings etc.). Our network of partners, all specialists in the organisation of professional events, are on hand to help you create a bespoke experience tailored to your needs.
Are you looking for a location to host a private event? Accommodation options? A local caterer? Look no further. We've got it!
Choosing the right service providers
Finding the right partners will be crucial to the success of your event. The Nantes and Saint-Nazaire Convention Bureau offers free support in this vital phase, steering you towards service providers capable of meeting the precise criteria of your technical specifications. Your guarantee of a made-to-measure event!
What type of services do you require for your event?
The Nantes and Saint-Nazaire Convention Bureau works in close collaboration with over a hundred approved suppliers, all members of the Convention Bureau and all confirmed professionals in the field of business events. Whether you're looking for some targeted advice on a specific service, or more general assistance with your services as a whole, don't hesitate to get in touch.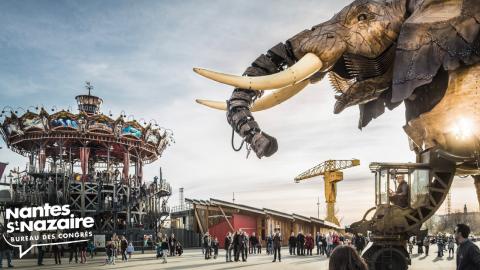 What services do they offer?
The service providers accredited by the Nantes and Saint-Nazaire Convention Bureau cover every facet of the events organisation process.
Thanks to our network of location hire partners, we can offer access to a broad array of classic, unusual and exceptional locations.
We can also provide a range of accommodation solutions within easy reach of your event location, from 3 to 5-star options, thanks to the Convention Bureau's partnerships with the Accor Group and the Club Hôtelier de Nantes.
You can also make the most of our plethora of top-quality catering options, along with bespoke support from our event planning agencies and the vast array of services offered by our event service providers.
Do they hold certifications or quality labels?
100% of the service providers accredited by the Nantes and Saint-Nazaire Convention Bureau hold certification, quality labels or are committed to a clear policy of continuous improvement: ISO 20121, PrestaDD, carbon footprint reduction, CSR, Zero Waste, Clef Verte, ISO 50001, Ecolabel, Imprim'vert, Lucie etc.
These commitments are essential to attaining accreditation from the Convention Bureau, and we too have launched the process of obtaining ISO 20121 certification in order to guarantee the consistent quality of our events ecosystem. Nantes was named European Green Capital back in 2013. It was also the first French destination to be added to the GDS Index, a programme dedicated to the continuous improvement of ecological performance on a local level, with a view to making the business tourism sector more sustainable.
The city's biggest event facilities - Nantes' Cité des Congrès and the ExpoNantes park - also adhere to these strong commitments. Both have been certified for a number of years now.
In the Nantes and Saint-Nazaire area,