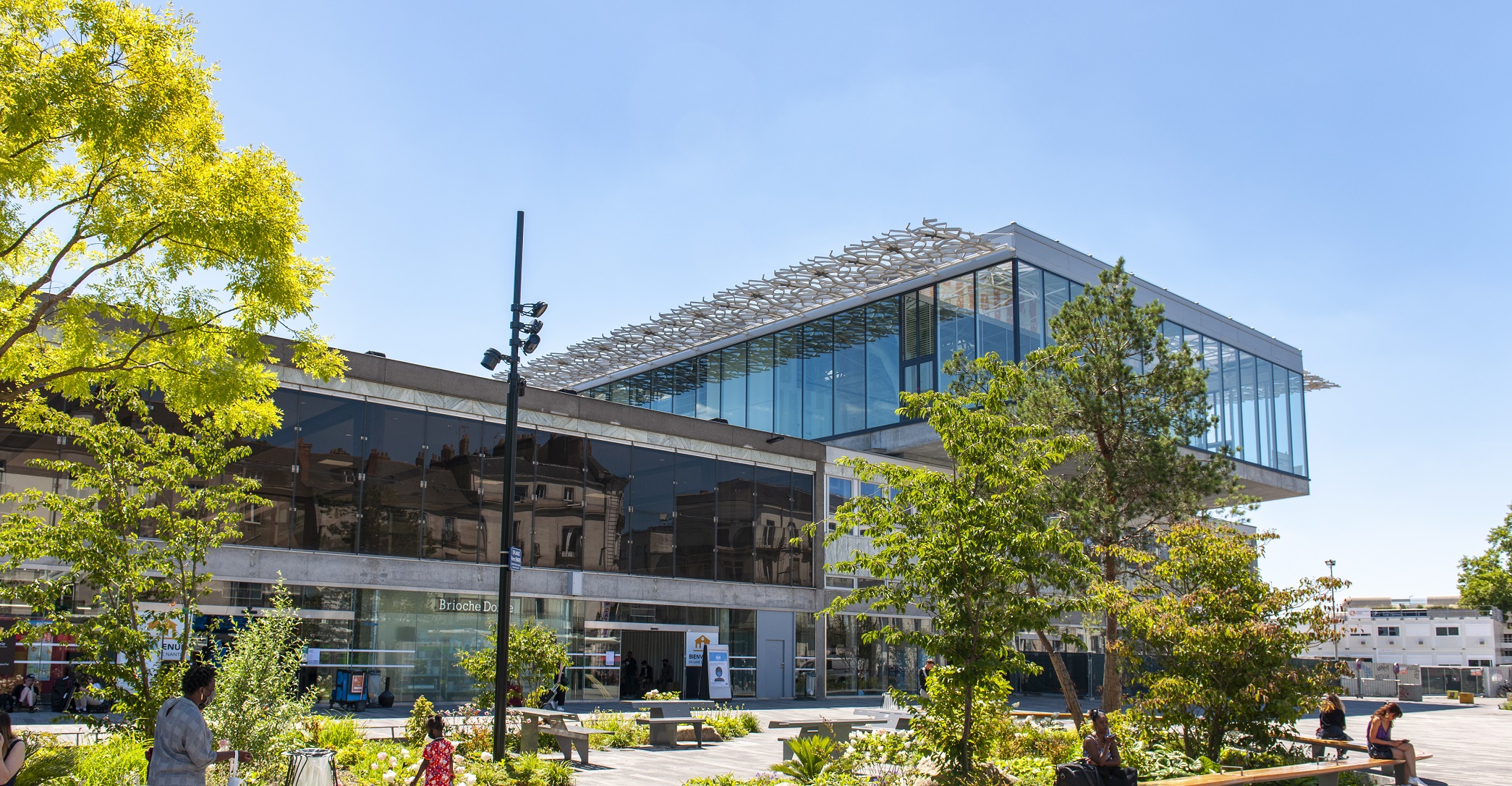 We are working to keep you safe
At the train station and the airport:
Clearly posted signs ensure that infection control measures are respected.Hand sanitiser dispensers are available.
All areas are cleaned frequently.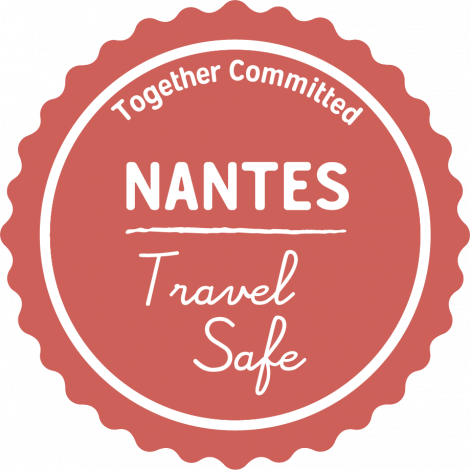 In trams and buses: Recorded announcements and signs on the floor and on the seats remind people to social distance.
The doors open automatically (in vehicles where this is possible).
Hand sanitiser dispensers are available in all trams, Busways and Chronobuses.
In taxis: A transparent screen separates you from the driver.
Infection control measures are posted for all to see.
Hand sanitiser is available.
Masks are recommended on public transports.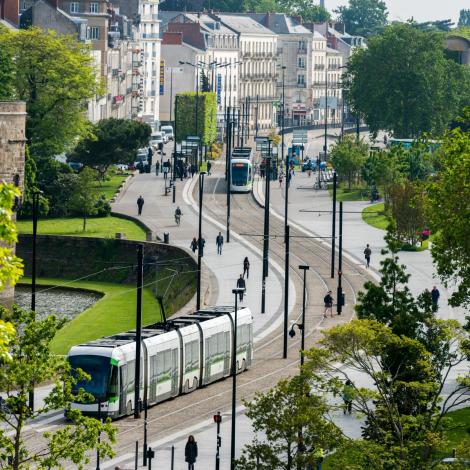 A careful cleaning protocol for rooms, common areas, surfaces and work equipment is applied by Nantes hoteliers.

Staff are trained in the new standards and procedures.
Find your accommodation on the website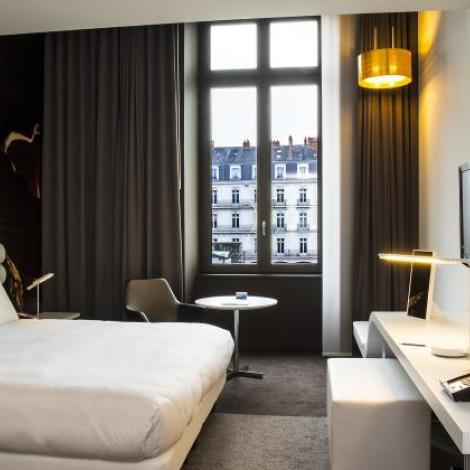 Large event venues are organised to manage traffic, physical distancing and infection control measures.

The tourism industry is committed to a common charter for hosting events.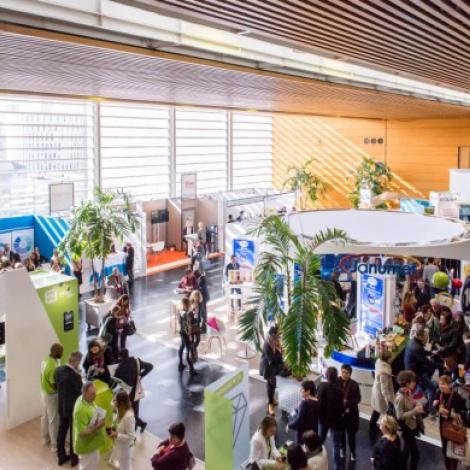 In bars and restaurantsIn bars and restaurants
Staff wear masks in the dining area and in the kitchen.

Hand sanitiser is available.

The staff ask all customers to comply with infection control measures. Masks are mandatory for everyone age 11 and over when not seated (i.e. when entering, leaving, visiting the toilet).
Find a restaurant thanks to the guide "les Tables de Nantes".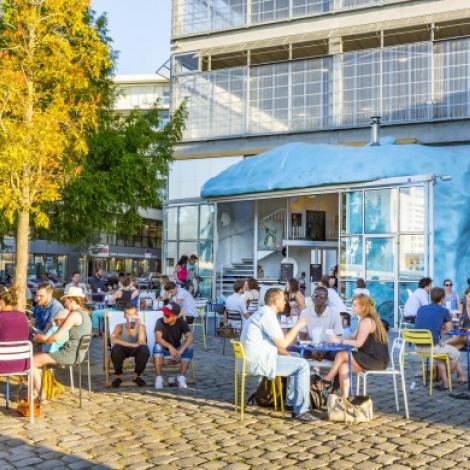 Visit the city, worry-free!
Le Voyage à Nantes (our Tourism office) informs you about the health protocols in place at local sites and cultural and tourist activities:

- By phone: 7j/7 au 0892 464 044.
- On their website: www.levoyageanantes.fr
By bike: take advantage of the more than 355 kilometres of bike lanes and 100 self-service bike stations to visit the city while enjoying the fresh air.
Take a breather in the 101 parks and gardens of Nantes.
Follow the green line, a route full of surprises leading to the cultural and tourist sites, all of which comply with strict health protocols : Discover the green line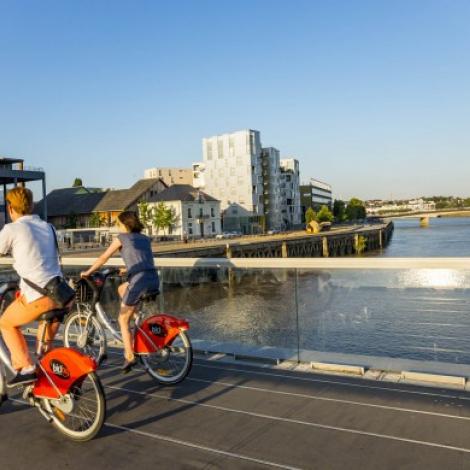 Businesses and sites that have signed the health charter
La Cité des congrès, Exponantes, Le Voyage à Nantes, Nantes Métropole, CCI Nantes St Nazaire, Semitan, Aéroport Nantes Atlantique, Bateaux Nantais, Brit Hôtel Kerann, Carrefour International du Bois, Château de la Rairie, Citadines Confluent Nantes, CK Traiteur, Centre de congrès La Fleuriaye, France Evénements Services, hôtel Amiral, Hôtel du Parc, hôtel Voltaire Opéra Nantes, Ibis Styles Nantes Centre Gare, Ibis Nantes Centre Gare Sud, Ibis Nantes Centre Tour Bretagne, Ibis Styles Nantes Centre Place Graslin, InterLingua Events, Kyriad Nantes Centre Graslin, La Carrière, La Civelle, La Compagnie du Café Théâtre, La Maison Hebel, Le Carré des Délices, Le Lieu Unique, Le Val d'Evre Traiteur, Maisons du Monde Hôtel & Suites, Mental Coaching, Mercure Nantes Centre Grand Hôtel, Mercure Nantes Centre Passage Pommeraye, Mercure Saint Herblain, Musée d'arts de Nantes, Oceania Hotels, Options Ouest, Radisson Blu Hotel, Rallye et Vous, Réception Création Events, résidence Cerise Nantes, La Beaujoire et Atlantis, Résidhome les Berges de La Loire, Ruffault Traiteur, Saveurs DétonNantes, Sapio, Seven Urban Suites Nantes Centre, Tout & Bon, Vert Com, Westotel Nantes Atlantique, work'in salorges, Zebulon Régie...
This list is updated as more organisations sign the charter?
Are you a business in the destination?

If you are a business working in the catering, transport, cultural or entertainment sectors, a venue manager, a hotel manager or a member of the MICE Club, join the Nantes Travel Safe charter!
Discover the Nantes Travel Safe Charter!
In the Nantes and Saint-Nazaire area,